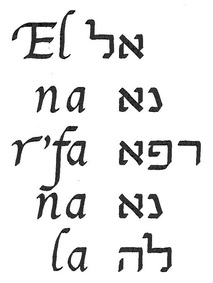 Wounds exist on many levels.
That's why there are many different layers to healing and repair. Even when medical recovery isn't always physically possible, healing can take place on the emotional and spiritual level. Sometimes the healing we seek is for others whom we love, like when Moses prayed that God heal Miriam of her leprosy. Sometimes we seek it for ourselves. Let Jewtique: Concierge Rabbinic Practice empower your self-healing capacity through the use of prayer and ritual, spiritual practices like meditation, maintaining a journal, immersion in the "living waters" of a mikveh (the traditional ritual bath), and affirming a new identity through a new name. These are just some of the possible tools for a powerful experience of healing. Each can be combined in different arrangements to offer you the possibility of closure, the opportunity for personal transformation, and the power of new beginnings.
I am writing to thank you for your support during a difficult time in my life. Losing my former husband and father of my boys during the COVID pandemic was emotionally taxing. Without hesitation you arrived at my doorstep with a mask and a siddur to guide family and friends through a socially-distanced shivah service. The healing began with your reciting the words "yitgadal v'yitkadash". My home at once became a sukkot shalom, a refuge and shelter of peace.
I am grateful for your guidance, your presence and your leadership.
— Carolyn Horowitz Amacher, Herndon, VA
Of the dozen rabbis I have interacted with in my life, Rabbi Greenspoon has been the most responsive. When my teenage child was dealing with a sudden series of unexpected deaths, Rabbi Greenspoon promptly provided wonderful, candid, humane support. His extensive experience enabled him to provide my child with appropriate wisdom, advice, and support. It was good for my child to hear again some self-care strategies and supportive acknowledgement. My child truly appreciated the conversation. It is clear that Rabbi Greenspoon takes serious situations seriously, and takes action with effective wisdom. He knows how to handle situations, he knows when to provide prayer or comforting words, and he knows when to appropriately, simply insert fun humor. Literally, you can tell him anything and seek support. Above all, he completely maintains privacy and confidentiality. He is an extremely trustworthy man and rabbi.
— R. L., Northern Virginia
I first met David in a hospital where I was a patient. He was a great support and helpful in my recovery. I am grateful for his help and he drew me into Jewish life in a stimulating and meaningful way. A superior human being and a wonderful rabbi.
— Paul Graubard, artist, Lenox, MA
David is able to provide comfort and healing to those in need.
— Rabbi Yaacov Rone, Past Chairman, Certification Commission, National Association of Jewish Chaplains