Online Conversion Program
with Darshan Yeshiva and PunkTorah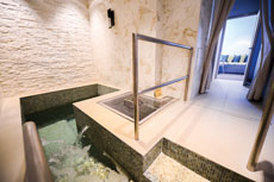 Online Conversion Program
Rabbi Greenspoon is joining the faculty of PunkTorah's Darshan Yeshiva to mentor online students undergoing the process of becoming Jewish. The program is ten months of preparation with the curriculum and online meetings with Rabbi Greenspoon, and requires a commitment of one hour a month for mentor meetings.
The program is completely administered by the Darshan Yeshivah. The fees are all-inclusive, and no extra expenses for an eventual bet din (rabbinic court) and mikveh (immersion) are required. The prepared curriculum is supplemented by podcasts on converting to Judaism by Darshan Yeshiva's Executive Director (and also a Jew-By-Choice), Rabbi Patrick Beaulier, and a curated list of Best of the Web videos, lectures and websites from other organizations for a broad understanding of Judaism. Learn more by visiting https://darshanyeshiva.org/conversion-about/.
David Greenspoon was my Rabbi during my conversion and at a very difficult time in our life – through the loss of our sister. David was extremely supportive and always there with the right message and words of support. He took his work seriously and was patient with me during my conversion experience. He was also joyous and fun and conveyed this in his work as a Rabbi. He brought a much-needed energy, love and understanding to the position that was infectious. He was a wonderful Rabbi to our family and I would highly recommend him.
— Kara Thornton, Dalton, MA
Five stars is just not enough for Rabbi Greenspoon. I have spent the last few years working with Rabbi Greenspoon on my Conversion to Judaism. When I first met him, I knew that he was knowledgeable, but I had no idea how truly wonderful of a human being he is.
With Rabbi Greenspoon you won't just get the facts and everyday prayers, you will get his heart and soul. His compassion for all is what really sets him apart from everyone else.
— Wendy Sutton, Round Hill, VA
Rabbi Greenspoon has been an extraordinary guide through the process of my conversion. It has been a privilege to work with him, over the course of several years and during a difficult period of transformation in my life, on my Jewish studies and spiritual development. In addition to regular Torah study, I've taken several adult ed courses he's taught, ranging from general introduction (still quite detailed, enough to teach you how much more there is to learn, and make you want to learn it) to a variety of more specific and in-depth subjects. His recommendations for reading have always been great, and he was always available to answer questions or address my worries. He has been accommodating and supportive regarding my anxiety and my learning disabilities at every turn. As a queer trans person, I have always felt accepted and affirmed. His commitment to LGBT inclusion is clear. He organized a trans affirming Beit Din for me (during the pandemic!), which was socially distanced, and warm and welcoming. Rabbi Greenspoon always brings real joy to ritual, and as a teacher he brings a well of knowledge both deep and wide. He has an obvious passion for life-long learning, and is always open to weird questions. I'm grateful to continue studying Torah with him, and I'm always inspired by his unique insights. Everything I learn makes me want to learn more! I could not have asked for a better mentor in building the foundation for my Jewish life.
— Ian Boniface, Purcillville, VA
Since he was my father's rabbi decades ago, Rabbi Greenspoon has been my guide to understanding and embracing myself within Judaism. Raised by a Catholic mom, upon entering college I took up Jewish Studies and have coined the term "Cashew" or Cat-Jew to define myself. Greenspoon always spoke to me as a friend and someone who can deeply relate to the meaningful or meaningless experiences in life while relating them to Jewish teachings. His personal approach is humbling and continuously enlightening. That relationship as well as my own inner calling inspired my Mikvah devotion. It was a soulful full circle moment to have him affirm what has always been there inside me. He is an outstanding, extraordinary person who possess the patience and wisdom to truly listen and get to the core of how to cope. Whether it through prayer, meditation or daily practices his approach is not rigid, it's self nurturing and self affirming.
— Sarah Lolley, York, PA
I want to thank you for all your guidance and spiritual support while I was "Joining the Tribe". Going into it I didn't know what to expect. I thought maybe it was going to be study a lot then I would pass or fail. you made me see that it was more of a spiritual journey that spilled into everyday life. Between your guidance and my self-study, the class and the class field trip, I have a deeper, more meaningful understanding of Judaism. My love of Judaism was stronger in the end. Thank you for all that you have done.
— Leah Ipson, Richmond, VA